Our son Ryan came to stay with us for some weeks this past summer and we also had lovely visits from Mom and Dad Kasper, Grandma Gloria and her charming new husband George. Linda and her husband Bob also came for a visit numerous times in the past months, and we also had a nice visit from Liz and Fred earlier in the year. Now that we have a guestroom, we'd like to have even more visitors!
Sean started a new job in October with the construction company BRAVO. He is on their cement crew. It's hard work, but he is learning new things and seems to be enjoying it. Sean also bought himself a used dirt bike. Riding is a long-time hobby of his since he was a teenager. He's a garage man and spends many hours out there in what I think is almost his favorite room in the house!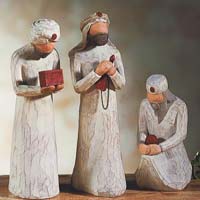 My Christmas trivia for everyone this year is The Magi.....also known as The Three Wisemen:
The Magi - (The word coming from the Greek "Magos" our English word magic derives from this word). The Magi might have came from the Mesopotamian or Arabian area, but probably from the rising Parthain Empire (centered around the current nations of Iran and Afghanistan), which basically encompassed the old Mede, Persian, and Babylonian empires. Many see Isaiah 60:3,6 to read as the prophecy of the coming Wisemen recorded in the New Testament.
They met with King Herod at Jerusalem upon the disappearance of the star to inquire of the birth of the King of the Jews. This troubled Herod (See Matthew 2:3).
When they found the child Jesus in a house they fell down and worshipped him and presented him with gifts. Being warned in a dream by God not to go back to Herod, they returned to their country by another way.
The Bible does not say that there were three wisemen, it only lists that three gifts were given. So, it is really unknown how many wisemen visited Jesus. In the 6th century was the first recorded mention of the Magi as 3 Kings and being named; Balthasar or Balthazar - 40 year old King of Ethiopia bringing Myrrh and Melchoir - 40 year old King of Arabia bringing gold, Caspar or Gaspar- 20 year old King of Tarsus bringing frankincense.
They're usually depicted with Balthasar in red with gold from Asia, Melchior in green with myrrh from Europe, and Caspar in blue with incense from Africa. The Kings' bodies were supposedly found and taken to Constantinople in the 3rd or 5th century and then taken to Milan after the 1st Crusade and currently are in a Cathedral in Cologne, Germany.
A little about their gifts.....
Gifts - The gold, frankincense and myrrh [Matthew 2:11] were all very valuable at the time of Christ's birth.
Gold then like now, was a very precious metal.
Frankincense (olibanum), puts off a strong fragrance when burned and was used in various rituals of the time, it was used in worship and was sprinkled on a offering. It is a product of a tree native from southern Arabia into India, with a yellow aromatic gum resin.
Myrrh was used as a beauty treatment, perfume in certain ceremonial rites, as anointing oil, embalming of the dead and when mixed with wine it would act as a painkiller and it has a spicy fragrance. It is from a bush native to Arabia into Africa, and is a whitish or yellowish or reddish-brown gum resin. Recent research has shown promising results that Myrrh might be used in cancer treatment.
Some say these gifts are significant and that the gold shows Jesus as royalty, frankincense shows the Deity of Jesus, and Myrrh depicts his coming, suffering and death.
Although many nativity scenes include the Magi, it is thought that the wisemen did not visit Jesus and presents the gifts until after his presentation at the Temple.
The Magi's visit to Jesus is commemorated on the feast of the Epiphany (Twelfth Night or January 6). On January 6th, four great events in the life of Christ are celebrated - the visit of the Magi (Epiphany); Christ's baptism in the river Jordan by John (Theophany); the miracle at Cana where Jesus changed water into wine (Bethany); and the feeding of the 5000 men along with their wives and children with five loaves of bread (Phagiphany).
At one time Epiphany was celebrated in much the same way as Christmas is now. Even today, in some countries, the wise men or their camels bear Christmas gifts for the children each year. In the Czech Republic, the initials of the magi's names are written over the entranceways of houses to celebrate Epiphany.
Kids Corner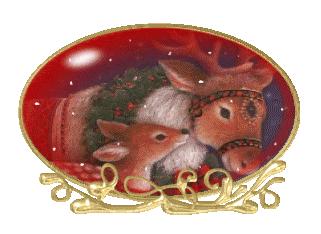 Our son Ryan will soon turn 14 years old. He likes school and has excellent grades and is on the honor roll. He is currently in 8th grade and attends Lemon Grove Middle School. He still enjoys playing PlayStation2 and Gameboy games. He enjoys playing sports and is a football fan and recently received a football from The Chargers signed by the whole team! He wants a computer for Christmas. He will be spending the Christmas holiday this year with his grandparents at their vacation home in Washington State. He will be coming back for a visit soon and he wants to go to Rachel, Nevada which is known for the "Little Alien Cafe" and is near the now infamous Area 51.
For those wondering about my son Derek. Although, I haven't seen him in two years, I did talk with him recently. He will be 17 on January 6th. He is attending Poway High School and is a Jr. (in the 11th grade). He still has his red truck but is thinking of selling it. This year he attended his Jr. Prom with his then girlfriend Amanda. He is now 6' tall and still growing! I will be calling him on his birthday and I hope to see him in the next year. If you'd like to see recent pictures of Derek, please email me and I will be happy to share them with any interested friends or family members.