USA Today
Posted 11/4/2003 11:54 AM Updated 11/4/2003 1:24 PM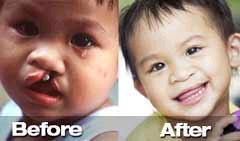 Downey uplifted by Operation Smile. Angel actress an ambassador for surgery.
Roma Downey works miracles with Operation Smile
By John Morgan, Spotlight Health, with medical adviser Stephen A. Shoop, M.D.
After a nine-year run as the beautiful angel Monica on Touched by an Angel, Roma Downey has witnessed her share of made-for-TV miracles. But her work with Operation Smile is as close to real heavenly intervention as you'll ever get.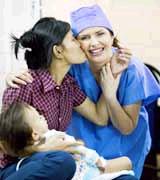 July 2003. Roma Downey counts returning a child to his mother after surgery at Le Loi Hospital, Vietnam, as one of her life's highlights.
"There's probably nothing more synonymous with children than the word smile," says Downey, who is currently filming the CBS television movie Survivor's Club. "Operation Smile visits 21 countries on an annual basis to fix children who have cleft lips and palates. Their slogan is 'changing lives one smile at a time.'"
Founded in 1982 by plastic surgeon William Magee and his wife Kathleen, Operation Smile is a group that travels all over the globe with teams of medical volunteers to not only repair cleft lips and cleft palates but also to teach local doctors how to fix these facial deformities. To date, Operation Smile has helped an estimated 70,000 children worldwide.
Cleft lip and cleft palate are caused by a genetic defect during the fourth to eighth week of pregnancy. Operation Smile estimates that about one in 800 American children is born with cleft lips or cleft palates. But in the developing world this number increases to one in every 500 births.
"Most people in the United States never see what a cleft lip really looks like," says Bill Magee, CEO and co-founder of Operation Smile. "If you don't form your lip properly, there is a significant facial deformity. The palate helps create a vacuum in the mouth which is responsible for sucking. A baby wouldn't be able to breast feed and would have a very difficult time bottle feeding. With the palate open you also have nasality of speech or unintelligible speech."
Emotional costs
But often to a child the emotional devastation is far worse than the physical challenges. Surgical success produces a smile.
"There is a shocking physical visual when you see a child with teeth growing out of a hole in the mouth where there should be lips," says Downey, who last summer visited Vietnam for part of an Operation Smile mission. "Because the child can't speak properly, the assumption is often made that he or she is mentally retarded and they are often humiliated and shunned. In some of the cultures, people believe there is some sort of a curse on the family. The whole family is negatively impacted by this condition."
No one is more aware of this than the child with a cleft lip or palate.
"The worst disease a person can have is insecurity," says Magee, who is also chief of the department of plastic surgery at the Children's Hospital of the King's Daughters in Norfolk, Va. "There are many reasons why people become insecure but it is painfully easy to understand why a child with cleft lip or palate would have this insecurity. It is devastating to these children."
As negative as the situation can be, Operation Smile is helping restore dignity and smiles. What astounded Downey was that these deformities could be fixed with a relatively simple, inexpensive, 45-minute operation.
"There are anatomical parts that should be in anatomical places but are distorted at birth," Magee explains. "It's all there. We just have to isolate each component and place them in the proper positions. Scars are not the big issue. Developing symmetry is the challenge."
Raising funds also is a big challenge.
While approximately 90 cents of every dollar donated benefits children directly, Operation Smile still needs to raise nearly $10 million annually. To help reach this goal, Downey has joined its board of governors as well as has filmed a public service announcement that will begin running nationally later this year.
Changing lives
"You can only imagine the devastation a parent must feel when there are no resources available to heal their child," Downey says. "Operation Smile invites local surgeons to train in how to perform the operations. It's the philosophy that if you give a man a fish he'll eat for a day. If you teach him to fish, he'll eat for a lifetime."
Twenty-one years after first going to the Philippines, local doctors trained by Operation Smile now perform 100% of the operations. In Colombia, about 1,000 kids are helped a year by local doctors.
"The operation actually costs about $238. If we add the educational programs and advocacy and training programs and credentialing and the equipment and supplies, then we then invest another $584 per child in this process," Magee notes. "Clearly, if we invest the $584, what we produce is sustainability and long-term change in these countries."
Downey herself calls her mission to Vietnam life-changing and the single-most moving event of her life, next to the birth of her daughter.
"The most moving part for me was I was given the privilege of handing the baby back to the mother after the operation," Downey explains. "Here I was handing back a healed child who not 45 minutes earlier had had an excruciatingly deformed little face. To be the one to hand back this restored child to the mother and to see her face as she looked upon her whole child for the first time was incredible."
Downey also knows the need for Operation Smile is enormous and that children are turned away every trip due to lack of resources. And for that reason the actress vows to raise awareness and funds so Magee and his team of volunteers can continue helping children throughout the globe.
"Here I was thinking I was giving back, and I can only say that this trip was a gift to me," Downey says. "I want everyone to know about Operation Smile and the incredible work that Dr. Magee and his teams perform because every child deserves a smile. It is their birth right, and we can change lives dramatically."