For a listing of more recent articles, please go to
the Roma Sightings page. Also, visit the Roma Links page to find links to online interviews.

BRNTWD Magazine, April 2001
Roma is on the cover and there are additional pictures inside and a very short article.

This is Roma's favorite dress from the BRNTWD layout.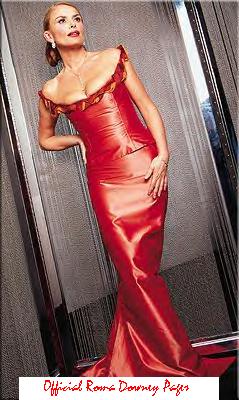 Irish America Magazine, April/May 2001, Pg 41
She is listed as one of The Top 100 Irish in America. You will find a picture with the caption "Angel," and the following: "Actress Roma Downey continues to charm viewers of her hit CBS drama Touched by an Angel. The Derry-born actress got the chance to return to her roots with a special episode that focused on the "Troubles" in Northern Ireland. In addition to her acting career, Roma made her recording debut in 1999 with Healing Angel, a collection of uplifting meditations on life inspired by ancient Celtic texts. She supports various Irish organizations including Project Children, which annually brings children from Northern Ireland to vacation in the United States. She resides in Salt Lake City, Utah, with her daughter Reilly."
Irish America Magazine, February/March 2001
There are three pictures of Roma. They were taken at their 15th Anniversary Ball which Roma attended in December. If you cannot locate this magazine, you may go to their site www.irishamercia.com and purchase this issue.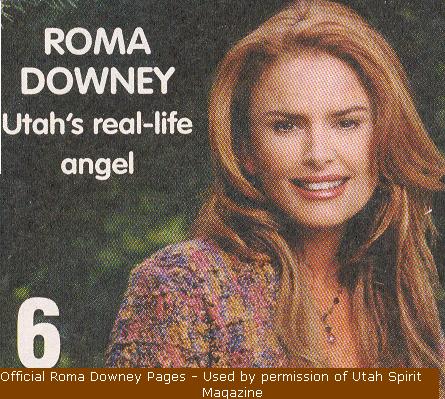 Utah Spirit Magazine, January 2001
Roma is on the cover and profiled in a feature article inside.
Target the Family, Fall 2000 edition
This is a magazine found inside Target Stores.
Roma is on the cover along with other great photos and a feature article.
July-August 2000
Roma's brother Lawrence Downey spoke with the local Derry City newspaper "The Derry Journal" and parts of the article were picked up by "The Irish Voice."
In Style Magazine, June 2000
You will find a small picture of Roma and she answers a question along with other celebrities about what special or different things they do for summer.
Biography Magazine, May 2000
There is a interesting article and a picture of Roma. She discusses her favorite movie Brief Encounter and answers questions about being stranded on a deserted island.
In Style Magazine, April 2000, Pg 379
Beauty Report section "They Asked.....We Answer."
St. Patrick's Day Parade Magazine, March 2000
This magazine was available for purchase at the Washington, D.C. St. Patrick's Day Parade. Roma is on the cover and featured inside. She was the Grand Marshal for the parade on Sunday, March 12, 2000.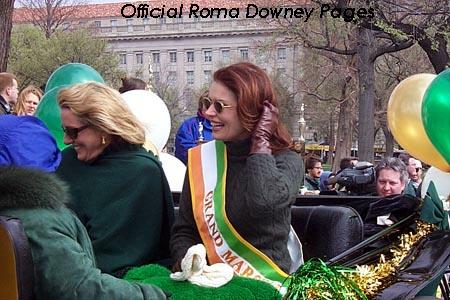 St. Patrick's Day Parade Newsletter "Irish I's" - March 2000
Roma was featured in this on-line newsletter. She was the Grand Marshal for the Washington, D.C. St. Patrick's Day Parade.
People Magazine, March 6, 2000
There was a small picture of Roma and the caption under the picture reads, "Irish eyes smile on Roma Downey for St. Paddy's Day."
The article reads: "Touched By An Angel star Roma Downey will be the grand marshal of the Washington, D.C., St. Patrick's Day parade, to be held on March 12. "I wish my parents were alive," she says, adding, "That's the kind of thing my father would have loved, his immigrant daughter leading the parade. It's heady stuff for us Irish."
In Style Magazine, March 2000
There is a small picture from a past awards show and the following quote:
"When it rains at home in Utah, I get homesick for Ireland. I'll put on some Clannad. Their haunting music transports me to the misty moors and evokes the more romantic notion of our country." Roma Downey, who is scheduled to be grand marshal of the St. Patrick's Day parade in Washington, D.C., this year. Raised in Derry, Northern Ireland, the actress is a descendant of the O'Dunadhaigh clan, whose members were considered to be as strong as a dun, or a brick house.
****Note from the webmistress Anna: Actually the Irish word dun was considered to mean something like a fort or fortress. I suppose "brick house" could be used as another meaning for the word, but it isn't the traditional meaning.
Vim and Vigor Magazine, February 2000
The cast of "Touched by an Angel" is on the cover and an article regarding the show.
Best and Worst Dressed of 1999, January 2000
Roma was named one of the top 10 best dressed women of the decade.
Celebrity Dish Magazine, December 1999, Cover and pgs 16-20
Roma was on the cover of this premiere issue of TV Guide's new magazine "Celebrity Dish." Lovely pictures and article. You can check www.celebritydish.com and see if the on-line issue is still available to view.
TV Guide Magazine, 11/13-11/19/99 issue, pgs 8-9
There are two small pictures of Roma and a brief article.

Here is a picture of Roma wearing the dress from Maire Claire.
Maire Claire Magazine, November 1999
Roma appeared in a Special Advertising Section, A Liz Claiborne Exclusive, along with other celebrities. You could have called a number for $1.99 and $1.50 was donated to Roma's favorite charity "Project Children" and for each call you were entered to win the outfit that Roma was shown wearing along with a matching cardigan that wasn't pictured.
In Style Magazine, October 1999, Pg 234 and 272
On page 234 there was a cute picture of Roma and Reilly from the previous Halloween and a brief note. On page 272 there was a small picture of Roma and her make-up artist discusses how to get her "angel look."
In Style Magazine, May 1999, p300-301(2)
Twin peeks: A behind-the-scenes glimpse at how prime-time players get into character--and back into their own chic looks.
In Style Magazine, April 1999, p87 & 100
Two beautiful pictures of Roma in dresses from two 1999 award shows (The Golden Globes and The TV Guide Awards)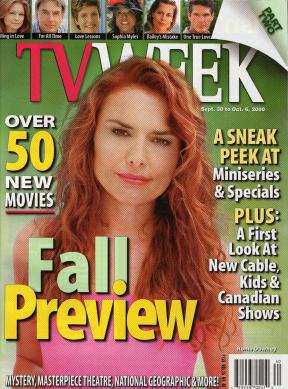 TV Guide (Canada), Mar 13-19 1999, Vol 23, No 11, Issue 1159, Cover & pgs 1, 14-17(5)
Roma Therapy: Touched By an Angel's Roma Downey talks about her fast rise to stardom, Della, dating and her adorable daughter.
People Weekly, Feb 16-22 1999, Cover & p86-94
Touched By An Angel TV's Heavenly Hit. A series with a heart surprises the cynics as it brings hope and comfort to 20 million fans.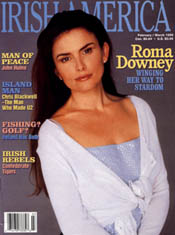 Irish America, Feb/Mar 1999, Vol XV, #1, p28-33
Roma Downey: Winging Her Way to Stardom.
TV Guide, Jan 30-Feb 5, 1999, Vol 47, #5
Small photo on cover and on p 112 regarding The TV Guide Awards.
People Yearbook 1998, p82
The Beauties. Looking back at the 50 most beautiful people of 1997.
>strong>TV Guide, November 30-December 6, 1998 issue
Roma on the cover, green background, red dress, p.18-19, Watching in a Winter Wonderland.
Faces On TV magazine, November 1998 issue
Touched By An Angel: The Heaven-sent Series Continues to Make Miracles Happen. p.70-73
People, November 1998
Review of her movie Monday After The Miracle.
TV Guide, November 14-20, 1998 issue
Flying Solo, p32-35
The Hollywood Reporter, November 13-15, 1998
Special issue devoted to Touched By An Angel celebrating their 100th episode. Roma Downey, Della Reese, and John Dye are on the cover, pgs. S-1 to S-28. Review of Monday After The Miracle p10 & 16.
People, October 5, 1998, Vol. 50, #12, p. 81
TV's 40 Most Fascinating Stars of '98.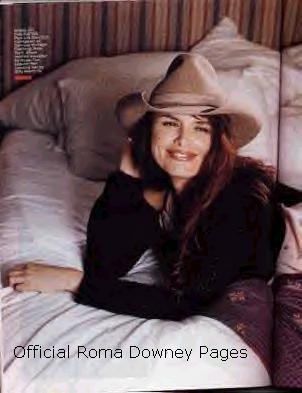 This picture is from the US magazine article.
US Magazine, September 1998, #248, pg38(1)
Bye-Bye, Love. Short article regarding the on-going battles of their divorce.
US Magazine, July 1998, #246, pg70(4)
Touched by disaster: Television's favorite angel speaks out about her messy divorce and custody battle for her child.
People Weekly, March 30, 1998 v49 n12 pg67(2)
Roma Downey files for divorce.
Entertainment Weekly, March 27, 1998 n424 p14
Brief article regarding divorce of Roma Downey and David Anspaugh.
TV Crosswords, March 10, 1998 issue
The cast of Touched By An Angel is on the cover.
Aspire Magazine, January 1998.

Woman's World, Dec 23, 1997, Vol XVIII #51 p18


Have a Heavenly Christmas! 65 little ways to make your holiday extra-special.
Citizen (Focus on the Family) Magazine, December 1997, vol 11, #12.

TV Guide, Dec 6-12, 1997


Flying High: Touched by an Angel's Roma Downey has come a long way in life, but she is never far from home.
Ladies Home Journal, Dec 1997 v114 p132(5)
Roma Downey home for the holidays. Read this article on-line. It includes part of the article, live-chat transcript, audio and sound clips.
Lifestyles of the Rich & Famous: Before They Were Stars, November 5, 1997, Issue #11, pg36(1)
Roma Downey: Streets Of Hell Led Straight To Heaven.
World of Hibernia, Summer 1997 v3 p100(6)
Northern light: America is touched by an angel.
Saturday Evening Post, May-June 1997 v269 p36
TV's Guardian Angels. This article is generally related to Touched by an Angel.
In Style Magazine, June 1997, p182
Is this Heaven?
People Weekly, May 12, 1997 v47 n18 p74(2)
The 50 Most Beautiful People in the World 1997.
Roma Downey
With her heavenly complexion and cascading auburn hair, Touched by an Angel's Roma Downey certainly looks divine. But John Dye, who plays fellow angel Andrew, says that his Irish-born costar has the soul of an angel as well. "It's her glow that makes her really beautiful,"says Dye. "I love the way that when she laughs at something, she sort of looks out of the top of her eyes at you. She still has that little girl demureness. "Actually, Downey, 34, recalls being "a rather chubby little girl," but she credits her mother, who died when she was 10, with making her feel pretty. "I have fond memories of my mom brushing my hair 100 strokes every night and braiding it so it wouldn't knot up," she says. "She would tell me how special and wonderful I was." Now, with an infant daughter of her own, 10-month-old Reilly Marie, Downey has little time to pamper herself. The 5'4" actress, who is married to director David Anspaugh, takes catnaps in her trailer and drinks lots of water to chase the dark circles from under her eyes. And she credits the show's lighting crew with making her look out of this world on TV. "We have what we call an angel light for the scene where I reveal that I am an angel," she says. "It really punches up the red in my hair. Whenever I have a special occasion, I ask, `Can you guys show up with the angel light?'"
Good Housekeeping, April 1997 v224 p108(3)
The TV show that works miracles; the top-rated series; Touched by an Angel.
McCall's, April 1997 v124 n7 p38(4)
Roma Downey's private heaven.
TV Guide, March 29, 1997 v45 n13 p42(4)
Angels & Insights. Regarding Touched by an Angel.
Ladies Home Journal, March 1997 v114 p138(6)
Heavenly creature. An interview with Touched by an Angel star Roma Downey.
Jet Magazine, March 10, 1997.

Catholic Digest, Dec 1996, 60th Anniversary Celebration.


Roma answers a few inspirational questions.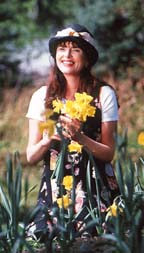 This picture is from the People article
in it Roma is pregnant with Reilly Marie. This is one of my favorite pictures.
People Weekly, June 3, 1996 v45 n22 p57(2)
TV's new angel: the luck of the Irish brought Roma Downey to Touched by an Angel.
Guideposts Mazazine, May 1996.

Aspire Magazine, April 1996.

New Frontier, Feb. 1995 issue.


Roma was on the cover, and p9-12 & 51.
People Weekly, Oct 21, 1991 v36 p83(3)
In the image of Jackie.Irish actress Roma Downey, who plays Jacqueline Kennedy Onassis in NBC's A Woman Named Jackie, is profiled.
Soap Opera Digest, November 1, 1988 v13, No. 22, p134-138(5)
Roma Downey: War and Peace in "God's Country." Ex-Joanna Leighton Coronal, One Life To Live.

Webpage design copyrighted.
© 1998-2006, Anna Kasper
All rights reserved.
Return to:Official Roma Downey Pages

You are listening to: Rest Sweet Nymphs by Francis Pilkington