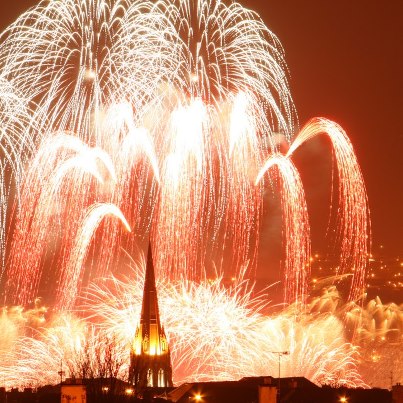 Derry City, County Derry, Northern Ireland
Settlement of Derry began in the 6th c. and certain historical events, such as the lifting of the siege in 1689, are still recalled with passion. It was one of the areas wracked by some of the most serious disturbances during the time of the Troubles. The Free Derry Corner is now a Historical Landmark in the Bogside. The photo below, taken at Rossville Street/Fahan Street, Derry BT48 6AQ, Northern Ireland, is titled So Peaceful Now.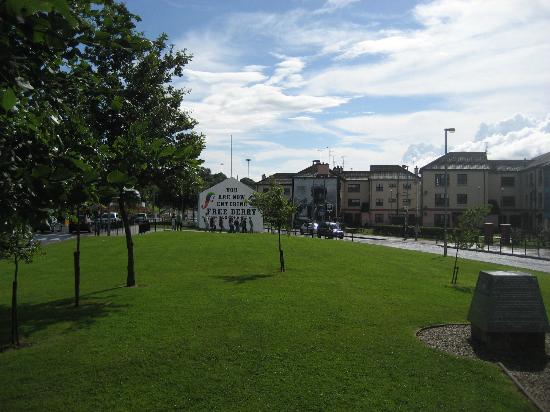 This photo of Free Derry Corner is courtesy of TripAdvisor
Derry is one of the longest continuously inhabited places in Ireland. A monastery was founded there in the sixth century, but for thousands of years prior to that peoples occupied this area.
Derry derives it's name from the old Irish word Doire meaning an oak grove. The original oak grove was on a small hill, formally an island in the River Foyle. The channel gradually dried out and thus leaving a boggy area. In time it became known as Bogside. This area is now well-known and is where Roma grew-up.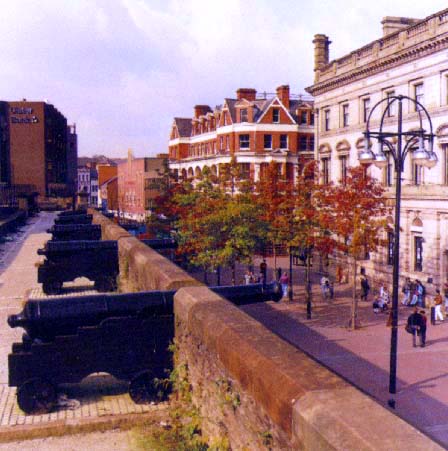 The Oak Grove was sacred to the Celts. Derry was a place of Celtic rituals and the small island hill was of great importance in pre-Christian times.
St. Columba (521-597) is said to have founded the monastery at Derry and it was a very holy place. St. Columba said 'the angels of God sang in the glades of Derry and every leaf held its angel'. So, it seems fitting that an Irish actress from Derry would play an angel!
There are many sights to see in and around Derry City. The Walls of Derry are the only unbroken fortifications in either Ireland or Britain. Thus the reason why the city is called the Maiden City.

To learn more about Derry and its history visit:
The Northern Ireland Tourist Board Site.
Go here to view pictures of Derry City and other areas of Ireland.
You are listening to: The Derry Hornpipe
Webpage design is copyrighted.
© 1998-2015 Anna Kasper
Return to Lady Anna's Pages